MOVING TIPS & INSTRUCTIONS
Here are some helpful suggestions you should do before you move. Read more Packing Tips Here!
Give yourself plenty of time for packing. Start with the areas of the house that you use least.
Label all cartons. It is a good idea to label them on at least two of the sides. Label the cartons with the new location where they will be delivered. Use plenty of packing paper. Wrap each piece separately and then use crushed paper to fill in the empty spaces. The key is to make sure nothing can move in the carton.
Use the right carton for the job. Small or book cartons are for smaller heavier items such as books, CD's,canned goods ect. Medium cartons are used for larger lighter items such as pots and pans, dry food, smaller lamps and lamp shades, linens ect. Large cartons are used for pillows, bedding, larger lamps and lamp shades and anything large and light.
Try to keep boxes to a maximum of fifty pounds. This will keep your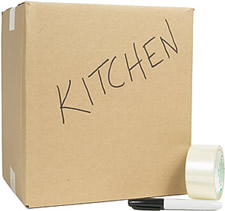 moving crew at an efficient pace through out the day and help make things easier on yourself.
Securely tape the top and bottom of every carton. It is not a good idea to leave carton tops open. It makes them much more difficult to move and stack on the truck.
Don't forget to empty desk drawers and remove anything breakable or spillable from furniture. It is ok to leave light miscellaneous clothing in your dresser drawers.
Try to pack according to weight. Don't pack anything heavy with smaller lighter objects. Try and keep remotes and wiring with electronic components.It is best to use unprinted packing paper.
News paper can leave ink stains on objects and can be difficult to remove.
Keep important papers and medicine with you. Set aside and label, DO NOT MOVE.
Relax and let Henderson's take care of your move. If you have any questions or concerns feel free to contact us. We are here to make your move as enjoyable and stress free as possible. Here are some additional moving tips:
ITEMS NOT ADVISED FOR MOVING VAN
The following items are recommended to be packed and moved by the owner:
Cash, Important papers (title, passports etc.)
Jewelry
Furs
Stamp and coin collections
The following items should not be packed or moved by the shipper in order to protect the rest of your items:
Aerosol cans of any kind
Ammunition
Cleaning fluids or liquids (Tide, Cheer, Dawn, Clorox etc)
Fireworks
Matches and lighter fluid
Gasoline and kerosene or the cans empty or full
Propane tanks empty or full
Paints and paint remover
Any hazardous materials
Wine, Beer or any other beverages
All perishable foods
We strongly recommend not moving any liquids. Containers that have been previously opened should not be carried at all.
HOW TO SELECT A MOVER
We usually recommend first talking to family and friends.
If you know someone who has recently moved ask them about their move and their experience with that moving company. The local Yellow page directory is full of movers but beware. Just because a company has a large advertisement does not mean they are your best choice. Call around and ask any questions that you have.
Check with the better business bureau. There is also a good website www.movingscam.com with a list of companies that are not recommended as well as some good tips in choosing a mover. Henderson's has been family owned and operated since 1927.
Know in advance:
Timing is one of the most important things to consider.The moving season starts the beginning of May and runs through September.We usually recommend about thirty days notice to reserve the date you want. The end and beginning of every month is also very busy due to rental and lease agreements.For off-season moving or moves planned for the middle of the month we can usually reserve a date for you within two weeks notice.We also specialize in short notice moves so give us a call in the case of an emergency.